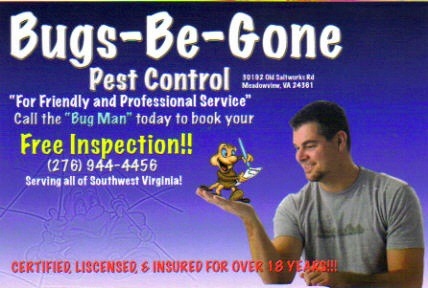 Hello!! We're glad you visited us today. We are here for ALL your Pest Control needs, Residential & Commercial. With our friendly and professional services, we make it our number one priority for the safety of our customers and their pets. We take pride in our work, so that we can better serve you.

You can reach us at 276-944-4456 our hours are 8:00am until 9:pm. We are looking forward to hearing from you. You can also contact us at our e-mail address: bbgpc1992@yahoo.com.

Call today and let: BUGS-BE-GONE PEST CONTROL take care of all your little PESTY CRITTERS: GOD BLESS.


EARWIGS


SPIDERS


SILVERFISH


ANTS


ROACHES